Gulf Coast Community Foundation has provided ongoing support to Venice Area Beautification, Inc. for its Venice Urban Forest initiative. Beyond the increased wildlife traffic already being seen in this greenbelt, the Urban Forest performs another crucial function: It will serve as an environmental buffer separating industrial areas from the Intracoastal Waterway, helping to protect Southwest Florida's prized waterways.
---
Gulf Coast has provided three $100,000 matching grants to Venice Area Beautification, Inc., or VABI, to support the Venice Urban Forest. The Urban Forest is a critical component in enhancing the City of Venice's urban design that was introduced by John Nolen in 1926 and remains its principal planning document. Nurturing this greenbelt will complement Nolen's "city garden" concept and serve to improve the quality of life for residents and visitors alike.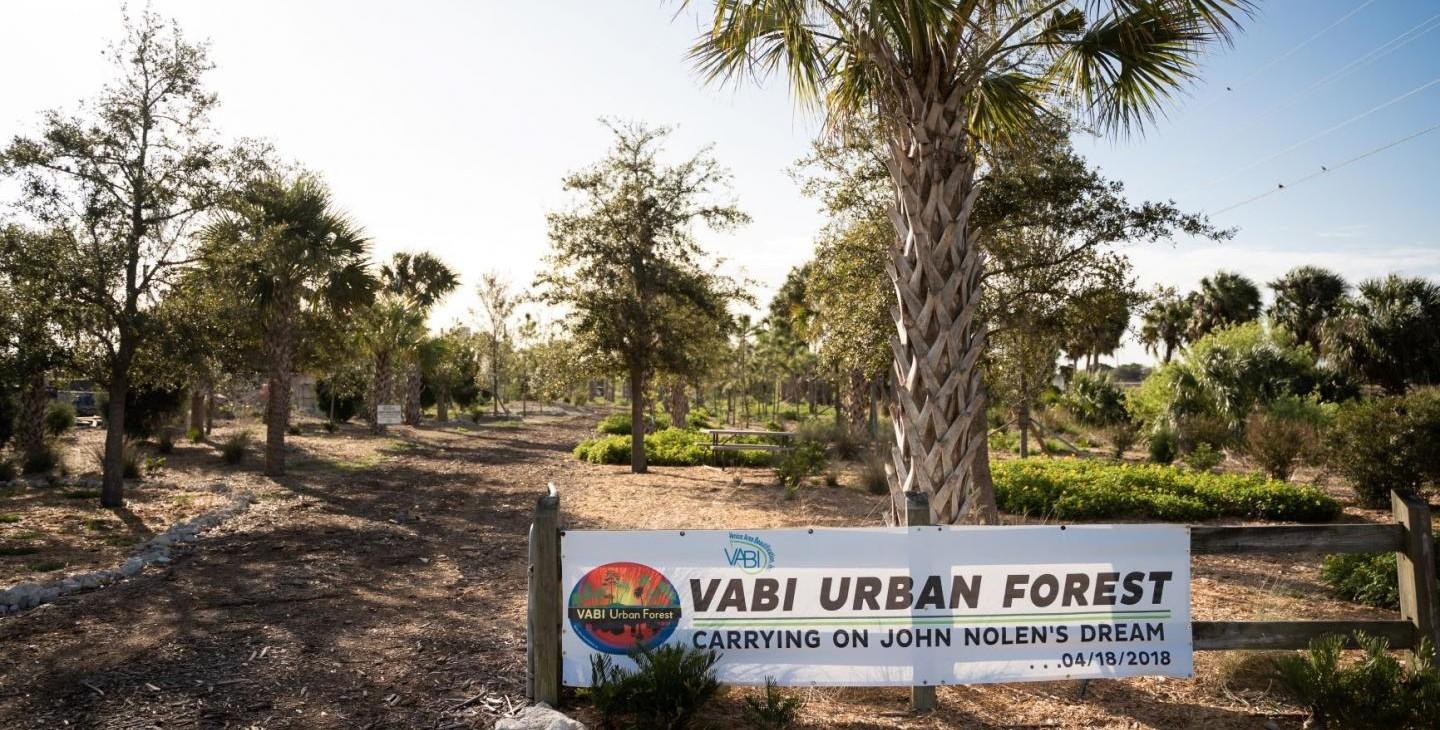 The 1.75 mile stretch of land where the forest will ultimately spread is lovingly compared to Central Park (2.5 miles in length, for comparison) by Phil Ellis, VABI's project coordinator for the Urban Forest. "I don't think that anyone who lives in New York would argue that Central Park is their most important commodity," says Ellis. "We're under different size constraints here, but I think the Urban Forest could be that entity for Venice."
Supporting the birds and the bees    
The forest is located on a corridor between the eastern side of the Venetian Waterway Trail and the Seaboard industrial district, extending between East Venice Avenue and the Circus Bridge. More than -600 native trees have been planted so far, in addition to some 2,500 understory plants and two butterfly gardens. That has brought in a plethora of wildlife.
"We've seen wild turkey; we've seen pairs of scrub jays," says Ellis. "In April 2018, when the Audubon Society did a count, they found 12 species of birds throughout this area. At last count they had 68. As we continue, it will only increase the number of animals and species we support."
Beyond the increased wildlife traffic, the Urban Forest provides another crucial function: It will serve as an environmental buffer separating industrial areas from the Intracoastal Waterway.
"Everything you see here is contributing to cleaning water—stormwater and other runoff that enters here," says Ellis. "The issues that we've had with water quality can and will be impacted positively by the kinds of things we're doing here."
Part of the clean-water solution 
Prior to the development of the City of Venice, native plants filtered rainwater before it reached local creeks and the Gulf of Mexico. Gulf Coast Community Foundation's Jon Thaxton says the natural filtering system has been virtually eliminated by replacing those trees with houses, shrubs with shopping centers, and groundcover with parking lots.
"The Urban Forest initiative reverses that negative trend," says Thaxton. "A renewed supply of trees, shrubs, and groundcover not only provides valuable habitat for wildlife, but also filters pollutants that contribute to beach closures, red tide, and numerous other health threats."
Led largely by a crew of civic-minded volunteers (who call themselves the "Foresters"), this public-private partnership needs community support to continue the historic process of reclaiming and returning forested lands to their former glory and helping to prevent further Gulf pollution. Gulf Coast's matching grants to VABI are distributed in $25,000 increments each time VABI raises equal funds from the community.
"This is a long-term, large-scale, multimillion-dollar project," says Greg Vine, a longtime VABI volunteer and the Urban Forest project chair. "It's a community effort, and we need the community to continue to support it."
To learn how you can donate or volunteer to support VABI's Urban Forest, go here.