Experts say Florida should to be among the top three states in America for solar power. But the Sunshine State has long lagged its potential in terms of solar-energy installations. Through strategic start-up funding and ongoing support, Gulf Coast Community Foundation has helped a fledgling network of residential solar co-ops scale its model statewide, bringing affordable energy to homeowners and bolstering the state's solar industry. To date, our support has leveraged $52.3 million in solar being spent in our great sunshine state. Learn more about SUN here. You can also join the waitlist to receive notice when these co-ops open.
---
BREAKING NEWS:
August 3, 2022: Gulf Coast awards a $15,000 grant to Solar United Neighbors of Florida (SUN) for the expansion of their neighborhood solar co-op in both Sarasota and Charlotte counties. SUN will work with Gulf Coast communities to organize a neighborhood solar co-op for Sarasota and Charlotte counties, making the process of going solar more affordable, comprehensible, and accessible through bulk purchasing. This will be the first time the solar co-op program is available to Charlotte homeowners and businesses. Learn more about SUN here.
May 4, 2022: Gulf Coast celebrates the veto of anti-solar bill HB 741. Learn more here.
How it all Began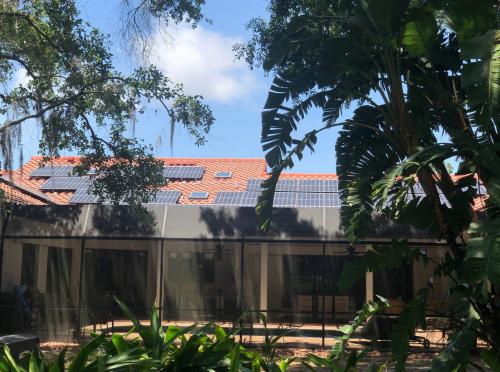 In 2016, the League of Women Voters of Florida brought a troubling picture to our attention. Florida lagged at number 17 in the U.S. for solar-energy installations. By comparison, New Jersey, with less than half of our state's population, had about five times as many rooftop solar systems. Meanwhile, Florida ranked higher in a less-desirable area: It was sixth among states for polluting emissions.
The League wanted to help more homeowners go solar through the promising model of "solar co-ops." These neighborhood-based cooperatives enable communities to leverage volume purchasing and competitive bidding on solar arrays, while also building passionate solar advocates in the process. The League partnered with national organization Solar United Neighbors (SUN), which coordinates co-op networks in several states. While SUN already supported a couple of co-ops in Florida, the new partners shared a bold vision to go bigger and create a statewide nonprofit program that could scale the co-op model, starting on the Gulf Coast.
Gulf Coast helped jump-start that plan with a $30,000 grant so SUN's Florida operation could organize more co-ops in communities around the state, including Sarasota County. The first two Sarasota co-ops saw 100 households go solar, with a total investment of more than $1.98 million in their new systems. Those systems will collectively save homeowners an estimated $3.4 million in energy costs versus buying retail electricity over their 25-year lifespans.
Meeting Local Demand for Solar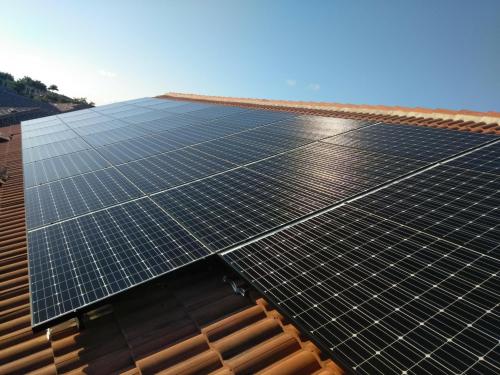 Since that initial investment, SUN has launched 56 neighborhood-based solar co-ops across the state. Gulf Coast invested another $30,000 grant to support two more Sarasota County co-ops with room for as many as 200 participants. The funding will also allow SUN to expand its youth education and community outreach programs, work with local governments to reduce barriers to going solar, and assist more businesses interested in converting to solar energy.
"Gulf Coast Community Foundation's longtime support has been instrumental in the success of our solar co-ops," said Angela DeMonbreun, regional field director for Solar United Neighbors. "They have provided us with cost and learning benefits that wouldn't otherwise be available. 
Sarasota's co-ops have remained among the most successful in the state, DeMonbreun added.
Better Together
Catalyzing SUN's work in residential solar energy complements another sustainability project that Gulf Coast helped launch and grow. The Partners for Green Places initiative helps nonprofit organizations implement energy- and water-efficiency improvements to save operating dollars they can redirect toward their missions and educate other organizations, businesses, and individuals about practical opportunities to conserve resources.
Through Partners for Green Places, Gulf Coast has also partnered with other funders to seed a pilot program for low-interest loans to nonprofit organizations to adopt solar power at their facilities. The solar-loan program was kick-started by a challenge grant from an anonymous donor through Community Foundation of Sarasota County, and Gulf Coast along with Charles & Margery Barancik Foundation contributed matching dollars needed to power up the loan fund.
"Helping our nonprofit partners invest in clean, renewable energy is a win for the organizations and their missions and a win for our community," said Mark S. Pritchett, President and CEO of Gulf Coast. "We appreciate the vision of the Community Foundation philanthropist who catalyzed this smart, collaborative program and the opportunity for Gulf Coast to be part of it."
To learn more about going solar in Sarasota County, go here.