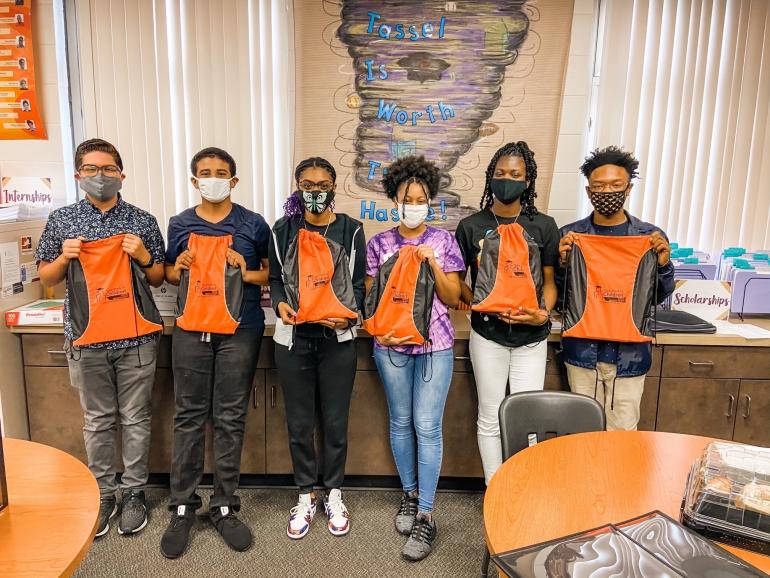 The COVID-19 pandemic has had a profound impact on the way schools function and how we educate our students. While schools, educators, students, and their parents have adapted to the logistical challenges—distancing, disinfecting, at-home learning—the mental-health impacts of those changes have been more difficult to handle.
"It's not just adults who are struggling, it's entire families!" says Lisa Bechtold, executive director of Take Stock in Children Sarasota. "Kids may have been given more responsibility, like watching younger siblings. Meanwhile, little social interacting leads to being more withdrawn and isolated. And then there's fear of sickness or family loss directly related to the pandemic." 
Bechtold and her team at Take Stock Sarasota, who work with low-income and at-risk students, want to relieve the mental-health needs of their students who are suffering academically due to the pandemic. With a $15,000 grant through our joint COVID-19 Response Initiative with Charles & Margery Barancik Foundation, they are doing just that.
The COVID effect
Take Stock in Children is a statewide nonprofit organization with programs in all 67 counties in Florida that connect low-income, underrepresented students with mentors and scholarships and help them make plans for postsecondary education. Comprehensive services for students start in middle school and continue through high school and into the college transition.
When the pandemic forced students to resume school from home last year, Take Stock Sarasota location quickly shifted to connect its students with mentors and resources virtually. However, the pandemic exposed an unmet need for these students—adequate mental-health resources. That's something Take Stock hopes to change with the foundations' help.
"The students who come to us are often living in poverty," says Bechtold. "Most come from single-parent homes, many have an incarcerated parent, some are homeless or suffer from substance abuse, others see abuse in their homes. COVID didn't make these things happen, but in many cases it exacerbated an existing situation—which takes a toll on mental health. COVID helped us see the need and the opportunity to help."
A community benefit
With the COVID-19 Response grant, Take Stock Sarasota is collaborating with partners like Forty Carrots and its sister Take Stock branch in Manatee County to incorporate mental-health resources into their offerings—including workshops, small group sessions, and individual support. Take Stock will partner with Samaritan Counseling and Centerstone to offer counseling and help to students and families.
"Providing youth with much-needed mental health support is something we're very passionate about," says Jennifer Johnston, Senior Community Investment Officer at Gulf Coast. "Through the Here4YOUth mental-health initiative, we're constantly working with our partners to help close service gaps. We appreciate organizations like Take Stock in Children that have stepped up to meet the emerging needs of students. Their academic and personal success depends upon it."
Bechtold hopes that providing students access to licensed mental-health professionals in a group setting may reduce stigma and encourage individuals to come forward for additional supports. "We're grateful for Gulf Coast's understanding of the importance of mental-health services and recognition of the impact and central role mental health has in our students' education," says Bechtold. "Because of this support, our students will benefit, their families will benefit, and our community will benefit." 
To learn more about Take Stock in Children of Sarasota, go here.
 
---
MORE NEWS