Meet Deb Kabinoff, brilliant, dedicated, warm, and successful businesswoman and philanthropist. Kabinoff became a philanthropist through Gulf Coast Community Foundation in December 2018. She partners with Gulf Coast often on her philanthropic endeavors and looks to us for advice on how to champion important causes.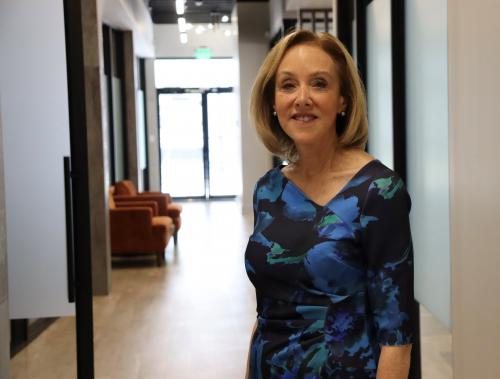 Kabinoff was born and raised in Cleveland, Ohio. She is currently CEO of GulfStar Homes which creates high-amenity, affordable housing. She serves as chair on the board of directors for the Sarasota Memorial Healthcare Foundation and serves on the board of directors for the Jewish Federation of Sarasota-Manatee. Kabinoff founded several companies including two specializing in innovative management strategies for healthcare. She holds an MBA and master's certificate in health services management. She earned her MBA at Cornell University with a specialty in operations management. Kabinoff worked in the national office of the international accounting and consulting firm Ernst & Young. She has started and built several multi-million dollar companies. In fact, she started her first company when she was 28 and sold it when she was 30. She put the money in a trust for her mom so she could stop being a school teacher and travel the world. When she sold her second healthcare business to a conglomerate, she decided to retire. Kabinoff retired and moved to Sarasota, Florida in 1991.
"Deb is an innovator and a trailblazer. She is inspirational and passionate. She's a trailblazer because she took a male-dominated career, made it her own, and sold it twice! She's very creative in her thinking and also the warmest, kindest, most sincere person. She takes her philanthropy and business seriously, and working with her has been a blessing not only to me, but to our entire community," said Gulf Coast's Philanthropic Advisor CJ Bannister who works with Kabinoff one-on-one on her charitable planning and giving.
We sat down with Kabinoff to learn more.
Q: What is the inspiration for your philanthropy?
Kabinoff: "My father died when I was young and my mom was a school teacher without a lot of money. My mom was extremely generous with her time and effort to give back even though we had limited financial resources. She set the tone for me and she did emphasize the Jewish tradition of 'tikkun olam' – that it is our responsibility to leave the world a better place.
We had limited funds, but my grandmother moved in with us and I had two sisters. It was a house full of five wonderful women. My mother reinforced to me that women can do anything they put their minds to. My mom inspired me to be strong and kind."
Q: How did you get involved in philanthropy in the Sarasota area?
Kabinoff: "When I arrived in Sarasota, I started getting involved in philanthropic activities because I saw how generous people were and what a difference you could make with philanthropy. In 2012, it was clear the hospital workers, schoolteachers, police, and firemen had no place to live because of housing costs. I knew we had to do something about affordable housing. My late husband Larry and I went down to North Port where there was a lot of land that was undeveloped. We bought the land to create affordable housing there. This is our eighth year in business. We are building our 500th home."
Kabinoff realized that starting a donor advised fund at Gulf Coast would be the best possible way to handle her charitable giving. "I had always been impressed with Gulf Coast's initiative-driven philanthropy. Gulf Coast would identify a problem in the community and launch an initiative to address it. I found this to be awe-inspiring, so I opened my donor advised fund and Gulf Coast was so helpful in explaining how everything worked. It was as easy as could be," shared Kabinoff. In fact, Kabinoff decided to focus her charitable giving on projects that optimized technology to meet a need or solve a problem because in her own career she earned a living using technology to help businesses.
"The first thing I did was donate a multi-media studio at Sarasota Memorial Healthcare (SMH). The problem was that whenever they wanted to do a podcast or make a video they had to travel to a studio and it took a huge amount of time. It was inconvenient and limited what SMH could do. So I funded a multi-media studio at the hospital so they can do all of their podcasts, videos, and educational information in-house. With COVID coming, this turned out to be such a blessing. They have made great use of that studio and conduct educational programs for the students, doctors, staff, community, and patients," said Kabinoff. "This allows the hospital to use technology to communicate to a wide audience in an effective way. The hospital is doing so many wonderful things with the growth of the Venice hospital, plans for a hospital in North Port, building the cancer center so we don't have to leave our community to seek treatment, and opening a new building for behavioral health."
Marie Selby Botanical Gardens reached out to Kabinoff next. They wanted to conduct virtual programming during COVID. "I sponsored their virtual programming which gave Selby Gardens a chance to do more online so they could share the beauty of the gardens for everyone," said Kabinoff.
Next, Asolo Rep reached out to Kabinoff as they were planning the new Koski Center and seeking a multi-media studio to help them with rehearsals and even more importantly, reaching out to the world to share their wonderful productions. "I also helped with a new website for Conservation Foundation of the Gulf Coast to assist them in getting out their message," shared Kabinoff. Kabinoff has also provided a new computer system for the Jewish Federation of Sarasota-Manatee to help them do their work in the community. Her newest project is with the Sarasota Police Foundation using technology to help children.
Q: How influential has Gulf Coast Community Foundation been in your philanthropy?
Kabinoff: "I always touch base with CJ when I'm thinking about doing a project because she has such a full view of what's going on in the community, the needs, and what other charities are doing. She provides me that big overview all the way down to technical issues and the best way to get this money to the charity I want to help. Gulf Coast makes it easy for me to figure out how to donate through innovative ways. Another advantage of being a philanthropist through Gulf Coast is that you become part of the Gulf Coast family. You all introduce me to new organizations and initiatives."
 
Q: What makes you passionate about technology and healthcare?
Kabinoff: "My whole career was based on using technology and I came in when computers were just becoming affordable and manageable. It allowed us to look at data in ways that had never been done before. I experienced the magic of using technology to make better decisions in a way that had not been made possible. It was miraculous. After using it in my business world for my career, I wanted to give that to nonprofits so they can benefit on all the things technology can do for them."
Kabinoff currently lives with a wonderful man, Scott Taylor, who is very supportive of everything she does. She believes in purposeful philanthropy and says you can have much more influence that way. "I look forward to increasing my philanthropic activity because of the joy that it gives me to see what a difference I can make," shared Kabinoff.
Gracie, Kabinoff's dog, and she are a therapy team for the Humane Society of Sarasota County. "We go to the hospital and nursing homes, but her true love is children, so we do a lot of programs with school children. We do reluctant reader programs where kids read to dogs."
Kabinoff has touched so many areas in her purposeful philanthropy. We are honored to work with this incredible woman and are inspired to see what she does next for our region.
---
MORE NEWS