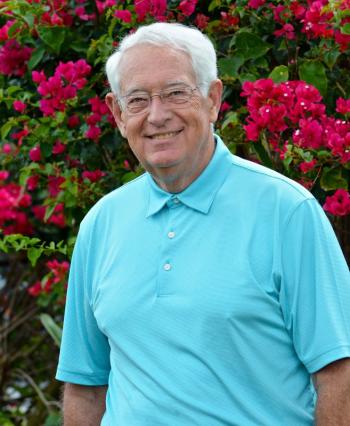 Please go here to make an online donation in memory of Richard A. Conroy, M.D.
Richard Alan Conroy, M.D., passed away on August 24, 2021, at age 77, at Venice Regional Bayfront Health, the hospital from which he served patients for many years as an ophthalmologist and surgeon. 
Born in New Haven, CT, to John and Rita Conroy, Richard went on to Notre Dame High School, Georgetown University, and Georgetown Medical School, where he also served his residency; there in Washington DC he met the love of his life, Mary Hucksam, who he married in 1968 and with whom he enjoyed 53 years of marriage and world travel, while building a remarkable family. 
After a stint in the U.S. Navy at Naval Air Base Pensacola, Richard and his young family settled in Venice in 1976, where he started a practice of ophthalmology from which he retired in 2013. Over his years in Venice he enjoyed countless rounds of golf at Mission Valley Country Club (as a member of the Hole in One Club), countless days behind the wheel of a succession of boats (all named "20/20"), and countless nights with his beloved friends at Venice Wine & Coffee Company.
Richard is survived by his wife, Mary; his children, Cathy, Brian, and Chris; his grandchildren, McKenna, Ella, Jake, and Lydia; his brothers, Robert and John; and the thousands of friends and patients—including, in a memorable tale, both an elephant and a tiger of the Ringling Bros. Circus—around Venice and the world who adored him.
Everyone who met him loved him; no one who knew him will forget him. Richard was an avid supporter and former Board Chair of Gulf Coast Community Foundation; donations can be made here in his memory, to the Conroy Family Fund. A memorial event will be scheduled for later this fall.
---
MORE NEWS