Gulf Coast Regional Scans have continually identified a critical need for affordable housing. Homeless veterans in our community are looking for a place to call home, to take a hot shower, and alleviate just one of the many obstacles they may be facing - a place to call home.
Almost two years ago, we were approached about a project in Charlotte County to address veteran's homelessness. This wildly successful project fueled the question: If we can do this in Charlotte County, why not do this in Sarasota?
The answer: We have not had the right people at the table, and more importantly the land. Until now.
This led us to the opportunity to use two of our biggest strengths: to collaborate, and to catalyze. Together with Gulf Coast donors Peter Soderberg of the Peter & Elsa Soderberg Charitable Foundation and Skip and Gail Sack of the Sack Family Foundation we had our first catalytic gift in the amount of $400,000, and more importantly, trust and support to turn this vision into a reality.
We Have Approval
Gulf Coast partnered with the Office of Housing & Community Development to leverage $400,000 public dollars they had available to support this project. Together, we identified potential parcels of vacant, city-owned land and began the process to identify an agency to manage the future complex. St. Vincent de Paul CARES was selected as a nonprofit with a successful track record of building and operating affordable housing for veterans.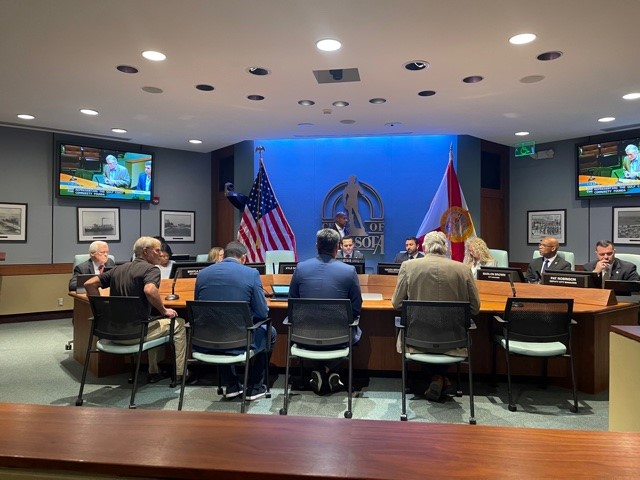 With the support of local leaders, veterans, Congressman Vern Buchanan, and Congressman Greg Steube, we presented the project before the Sarasota City Commission on January 17. Our goal: a 5-0 vote to approve the use of their vacant land parcels as a foundation for our Veteran's Housing initiative. 
6 short months later, we received the final step in our approval process to make this project a reality. The Citizens Planning Commission unanimously approved the project on July 12. In the weeks to come we will break ground on Sarasota's first Veteran's housing project. 
Together, We Do More
Projects like this do not happen in isolation. To date, together with $300,000 in Board directed grants, we have over $1M in commitments from generous donors and partners to this project. While we know the need will continue to grow, we know that we have additional donors who stand ready to help. 
To learn more about how you can make an impact, contact your philanthropic advisor or any member of our Philanthropy team here.