With the resources in our community, no child should have to sleep in a car. Yet, as many as 1,000 Sarasota County students are identified as homeless each school year. Missing from that total are younger siblings not yet of school age and additional families who hide their circumstances to ensure that they can stay together. These latter children and families who go "under the radar" are most vulnerable of all.
---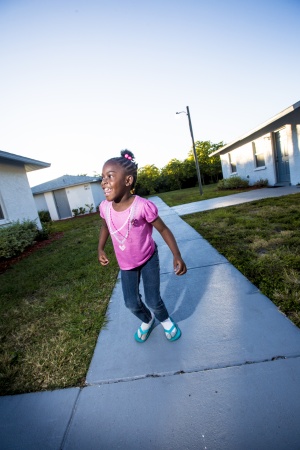 Together with our donors, Gulf Coast made a commitment to transform our region's system of services for homeless children and their families and to rally the philanthropic support to make those changes permanent.
We began by convening homeless-services agencies that were doing heroic work on their own, but often lacked the time to look beyond their own services and address the root causes of the issue.
We also helped bring a national expert to Sarasota County to analyze gaps in homeless services and recommend improvements.
In his November 2013 strategic action plan for homelessness in Sarasota County, Dr. Robert Marbut tabbed Gulf Coast as the "lead convening and supporting agency" for his recommendations that deal with children and families.
Our focus was to leverage the best work that our nonprofit partners were doing individually into a seamless system of coordinated support that helps families graduate from the streets to self-sufficiency.
Partnering with seven key agencies and more than 30 other service providers, Gulf Coast helped our community complete all of Dr. Marbut's recommendations related to children and families, including:
Established two emergency shelters for families were established in the northern and southern parts of the county: the Harvest House Family Haven in north Sarasota; and the Catholic Charities Family Haven in North Port. 

Created a master case-management system, known as the Family Haven Alliance, to coordinate services for families and children across dozens of agencies. 

Transformed use of the Homeless Management Information System (the database to track homeless services) into a proactive case-management tool.

Developed a targeted, replicable program to address seasonal food shortages at All Faiths Food Bank and expand summer feeding - the Campaign Against Summer Hunger.
Gulf Coast continues to work with our partners and with many donors to further strengthen our community's safety net. We have also expanded our initiative based on learnings from the Family Haven Alliance's master case managers.
One expansion is our new Financial Sustainability Initiative, launched in May 2016 in partnership with United Way Suncoast. As Gulf Coast's Jon Thaxton said at the time: "Even with a roof over their heads, many of these families are just a health emergency, car breakdown, or job loss away from being back on the street.
Our Board is focused on a long-term, systemic solution to the challenges faced by homeless students and their families, and this Financial Sustainability Initiative is a critical next step." 
Almost half of the 20 families participating in the first Financial Sustainability class were Family Haven Alliance clients who had previously been homeless.
To learn more about what is working, read more in our 2013 Proaction magazine.
Help Homeless Families
Click below to contribute to our Homeless Children and Families Fund.