A Smithsonian Institution traveling exhibit on voting in America launches its statewide tour of Florida this week at the Betty J. Johnson North Sarasota Public Library.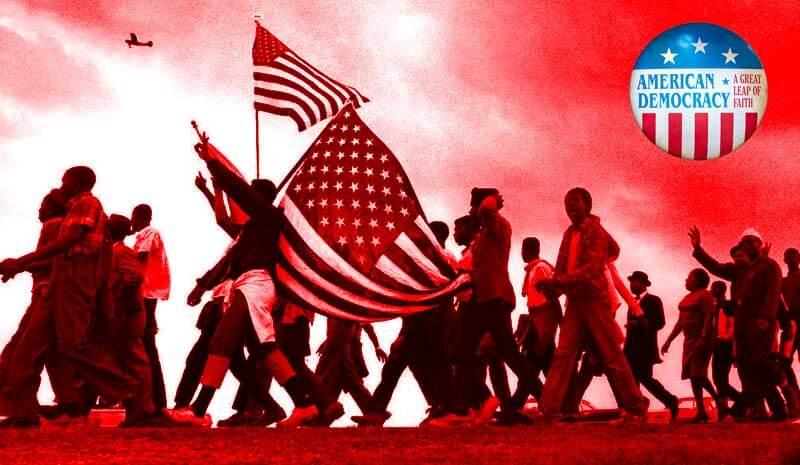 Voices and Votes: Democracy in America is based on a major exhibition currently on display at the Smithsonian's National Museum of American History in Washington, D.C., and tells the story of America's democratic form of government. 
The exhibit kickoff will be celebrated virtually with an online "squeeze," a modern-day take on the tradition of famous First Lady Dolley Madison, whose social gatherings were so popular that attendees had to squeeze in. Registration for the virtual launch event, which will be held from 2 to 3 p.m. on Saturday, August 15, is available online here. The new exhibit is brought to Sarasota County by Florida Humanities and made possible by generous funding from Gulf Coast Community Foundation and Andrew W. Mellon Foundation.
Voices and Votes will be on display at the North Sarasota Library through October 10. Due to the coronavirus pandemic, the library will observe social-distancing practices, limit the number of simultaneous visitors, and regularly sanitize the exhibit. Visitors are encouraged to verify the library's hours and other information by calling the library at 941.861.1360. A number of online events, in partnership with civic groups The Village Square and Braver Angels, will augment the physical exhibit. These programs include book discussions, documentary screenings, and workshops to recognize and lessen the effects of polarization on political conversations. Learn about virtual events here.
"Gulf Coast Community Foundation is honored to partner with Florida Humanities to bring this wonderful educational opportunity to our residents here in Sarasota County," said Mark S. Pritchett, president | CEO of Gulf Coast Community Foundation. "We hope to inspire our community to engage in conversations about our local history and the story of democracy in America.

"

The exhibit features six thematic sections. Each section explores historic content and poses questions relevant to our contemporary form of government. "The Machinery of Democracy," for example, covers the myriad ways we participate in our political system, including state and national parties, nominating conventions, and promoting our candidate of choice.
"Florida is one of only four states in the nation to receive this new traveling exhibition," said Steve Seibert, executive director of Florida Humanities. "Although there is a greater focus on politics during presidential election years, this exhibit proves there are opportunities for citizens to remain engaged every year."

After leaving the North Sarasota Library, Voices and Votes will make three additional stops in Florida. The Polk County History Center in Bartow will host the exhibition from mid-October to mid-December. The Haitian Heritage Museum in Miami will host the exhibit from mid-December to early February 2021. The tour will conclude at the Florida Historic Capitol Museum in Tallahassee from mid-February until the end of March 2021.
Voices and Votes: Democracy in America is sponsored by:

---
MORE NEWS