As part of its 25th anniversary celebration, Gulf Coast Community Foundation wanted to spotlight one of its current focus areas in ways the entire community could experience and enjoy. That's why two unique turtle sculptures will soon greet beachgoers at Siesta and Venice Public Beaches.
These are more than just pieces of aquatic-themed art. The thoughtfully designed turtle sculptures have been created to hold plastic and aluminum recyclables, serving not only as collection spots but also educational opportunities to highlight the problems caused by marine debris.

"Protecting our natural environment is a top priority for Gulf Coast," says Jon Thaxton, Senior Vice President for Community Investment at Gulf Coast. "We wanted to come up with a creative way to celebrate our work that also allowed for public engagement around the importance of improving and sustaining our local waters. These turtle sculptures will be a form of public participation art that will make a statement to beachgoers about how their recyclables could end up inside of marine life if not properly disposed."
From Concept to Design
Gulf Coast worked with the scene shop at Asolo Repertory Theatre to create the turtle sculptures. Taking inspiration from a children's toy turtle, Asolo Rep properties artisan Jeffrey Dean designed and constructed the model for the sculptures. That was then tweaked and refined with input from everyone involved in the project, which included representatives from Gulf Coast, Sarasota County, and the City of Venice.
The end result is a sculptural turtle with a tightly woven, mesh-covered interior cavity designed for holding and displaying recyclables. The sculptures are made of outdoor-grade aluminum to help them hold up to the elements and any over-enthusiastic handling from their human viewers. They'll be bolted to a base securely fixed into the ground. "As tough as actors are on scenery, the public is a lot tougher on statues," says Victor Meyrich, director of production and operations at Asolo Rep and part of the project team.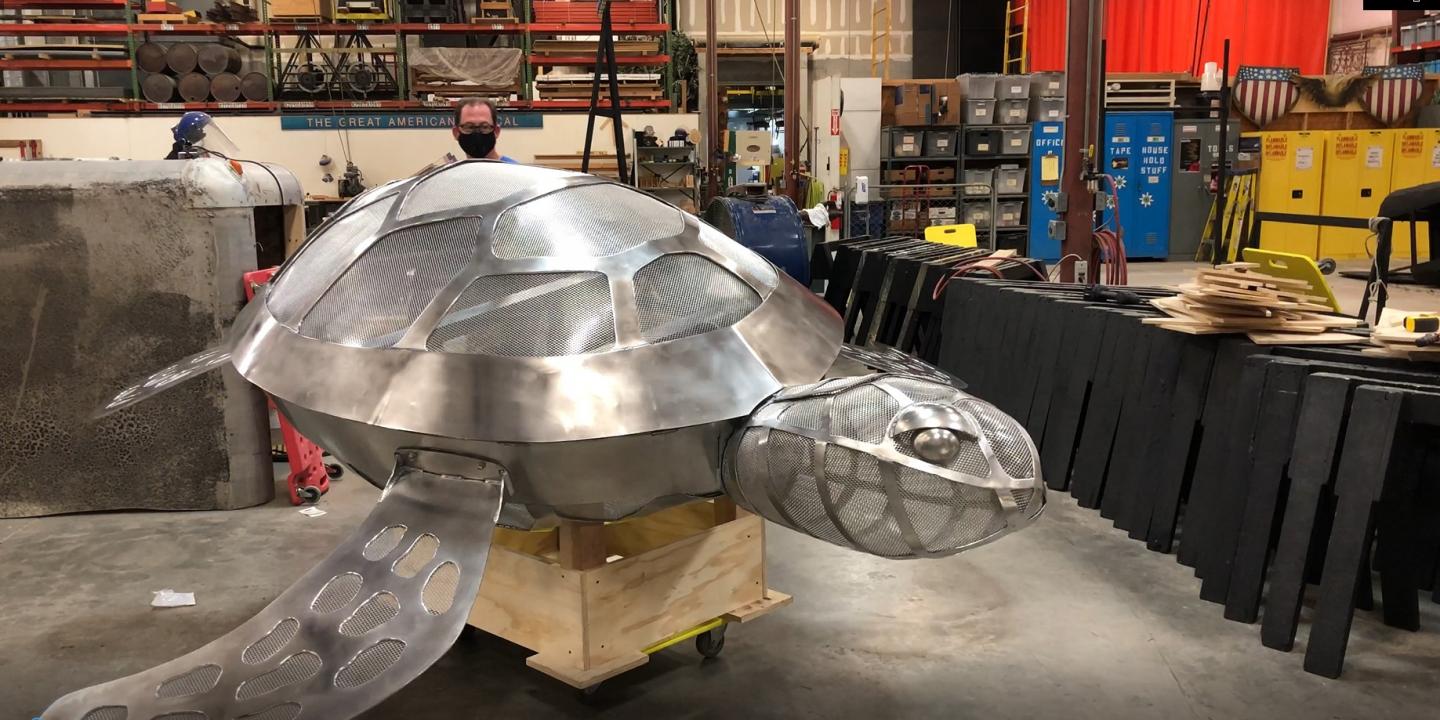 Working on the sculptures gave Asolo Rep the opportunity to bring its scenery design experience to a new kind of project at a time when its theater work was on hold due to the COVID-19 pandemic. "This project allowed half a dozen staff members to stay working who otherwise would not have had any work to do," says Shane Streight, the theater's associate technical director. "It was a job saver for several weeks. We really specialize in bringing people together inside to enjoy something as a large group. We're not able to do that right now, so doing things for the free and open public to enjoy was new and also necessary right now."
Preparing for Public Participation
At Siesta Beach, the turtle sculpture will be placed within the main beach access area near the oversized-postcard-style "#1 beach" sign popular for portraits and selfies. The plan there is for beachgoers to be able to directly deposit recyclables into the statue.
At Venice Beach, the turtle sculpture will be placed near one of the boardwalks to the beach at the Venice Beach Pavilion. Because of that sculpture's placement in a spot where access to it is a bit more limited, there will be a recycling bin near the turtle where beachgoers can deposit cans and bottles, which will then get transferred into the sculpture by city or county staff.
Signage near the sculptures will educate beachgoers about how plastics that get into the Gulf of Mexico or other waterways break down into smaller pieces but never really break down completely. These microplastics degrade the quality and health of ocean habitats, and marine life can be harmed by eating plastics that wind up in the water.
The City of Venice had previously worked with Gulf Coast on the interactive Venice Shark Spotting project. The city has been working to encourage recycling among its residents, so the turtle sculpture project was another way to help spotlight the importance of making those efforts.
"What we liked about it was that the display itself showing plastic bottles actually inside the sculpture is a neat way to get that message across," says James Clinch, director of public works and asset management for the City of Venice. "We hope that it's a reminder that we all play a role in protecting our coastal waters. We all have a responsibility to take care of those waters so that they will be just as pristine and beautiful for our future generations."
---
MORE NEWS