The following article was written by Gulf Coast Community Foundation and appeared on Sarasota Magazine's website on August 2, 2022. 
At Gulf Coast Community Foundation, we know the importance of investing in children, especially when their families are experiencing economic hardships. Children First serves children of the highest need very early in their lives – a wise investment by any measure. Founded in 1961 and ranked in the top 1% out of over 1,800 Head Starts nationwide, Children First strengthens children and families by improving the quality of their lives through development, education, health, and well-being. Over 25 years, Gulf Coast and its donors have provided over $4.7 million in support of the Children First mission.
In 2021, Gulf Coast Community Foundation awarded Children First a $60,000 grant for The Challenge for Changing Lives initiative to celebrate their 60th Anniversary and help provide comprehensive services for children (birth to age five) and their families. Every child receives high-quality education in a nurturing environment from qualified teachers who help them develop physically, socially, emotionally, and cognitively. Healthcare screenings are provided to every child to ensure they are healthy enough to learn. These services support a child's healthy development and prepare them for success in kindergarten and beyond. Family Strengthening services are provided to ensure overall family well-being.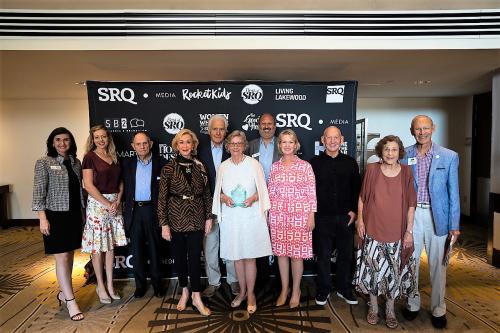 Gulf Coast helped Children First to exceed their initial challenge match goal of $1,060,000. With other partners, including Charles & Margery Barancik Foundation and Diamond Circle members, Children First raised more than $2.3 million. The Diamond Circle is a dedicated group of extraordinary supporters leading the charge in advancing the mission of strengthening children and families. The shared commitment from the Diamond Circle members, Gulf Coast, and all who joined The Challenge for Changing Lives is an investment in the futures of our children, families, and community. The support Children First received during their 60th Anniversary far exceeded their goal with over 264 new individual donors inspired by their mission. This was an increase of 63% from 2020.
"Unfortunately, even as we celebrated our 60th Anniversary, the hardships faced by those we serve became greater than ever. The shared commitment from our Diamond Circle members and all who joined The Challenge is an investment, not just in the futures of our children and families, but the future of our community and the world we live in. We are proud to work together in providing solutions to our community's most vulnerable during these unprecedented times. These are the moments in which we continue to change the tide by meeting our families where they are. We are deeply appreciative of our Diamond Circle partners like Gulf Coast Community Foundation and our broader community for their remarkable support of ensuring opportunity for all, regardless of circumstance at birth or in life," said Philip Tavill, CEO of Children First.
"Our community is stronger when we work together to provide quality education and care to young children and their families. Children First is an asset to our region, with innovative and expert staff. It is a joy to connect donors and community leaders to Children First to see first-hand the way they empower families. The success of their model speaks for itself," said Jennifer Johnston, Director of Community Leadership at Gulf Coast Community Foundation.
To learn more about Children First, visit https://www.childrenfirst.net/.
---
MORE NEWS