The familiar Florida sunshine peeked through some rare cloud cover this morning just as a major solar-energy opportunity for Sarasota County residents was announced outside the Florida House Institute.
Local co-sponsors, including the Florida House and the League of Women Voters of Sarasota County, have partnered with a statewide program called FL SUN (Florida Solar United Neighborhoods) to launch the Sarasota Solar Co-op, which aims to provide cheaper, easier access to solar energy for Sarasota County homeowners. Gulf Coast Community Foundation and the Charles & Margery Barancik Foundation provided start-up funding for the new co-op.
"We're forming this co-op to make saving money with solar energy as simple as possible," said John Lambie, executive director of the Florida House, who welcomed dozens of interested residents and members of the media to the kickoff press conference. "Working with the group helps members learn about the technology so they feel confident in their decision to go solar." Other local sponsors include the Sarasota Classified Teachers Association, Sierra Club, and Unitarian Universalist Church of Sarasota.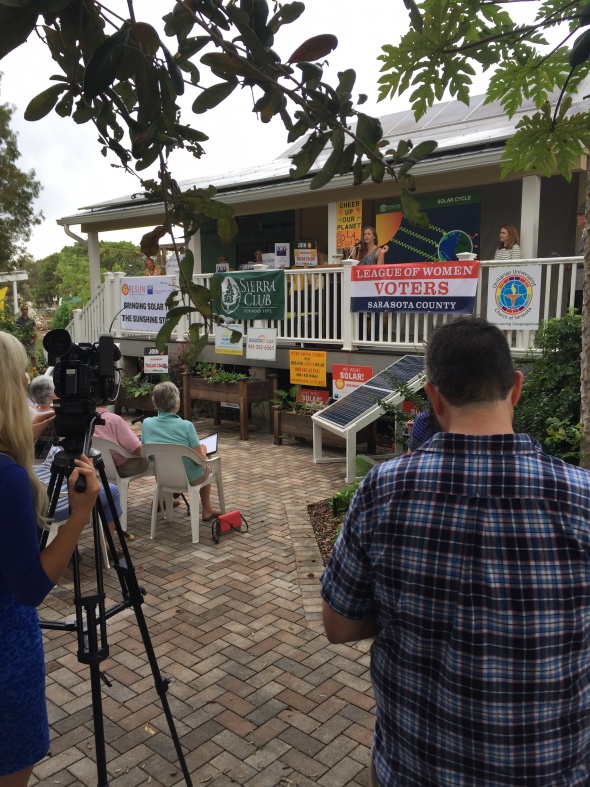 Supported by FL SUN, the new co-op will educate residents about the benefits of distributed solar energy and help them save money on rooftop solar panels by buying "in bulk" through negotiated discounts on group installations. FL SUN's co-op manager, Angela DeMonbreun, said the discount can be up to — and sometimes more than — 20% off the installer's typical cost. A member of FL SUN's St. Petersburg co-op who also spoke at the event said she figures she saved 36% on her installation.
"I am excited to work with Sarasota residents," said DeMonbreun. "If you've ever thought about going solar before, this is the perfect opportunity to do so."
Global issue, local impact
Speaking on behalf of the Barancik Foundation, which has also helped fund other FL SUN co-ops around the state, president and CEO Teri A Hansen asked: "Did you know that Florida ranks third in the nation for rooftop solar potential, but only 14th in actual solar installation? The Barancik Foundation believes that all people are entitled to live in a home and neighborhood that supports wellness, good health, and well-being. That includes clean air and sustainable ecosystems—and we recognize that our greatest impact will be right here at the local level."
Gulf Coast senior vice president Jon Thaxton built on that "local impact" sentiment in sharing why Gulf Coast joined the effort. "We have 43,000 households in Sarasota County that are housing cost-burdened, which means they have to make tough choices between paying for things like childcare, transportation, or energy bills and their housing costs," said Thaxton. "Every dollar they can save on a power bill can be put toward their housing. This initiative holds promise for reducing the energy costs for households in places like Sarasota Springs, South Venice, Englewood, and North Port—taking not hundreds but thousands of those cash-strapped households and helping them become sustainable." 
Want to go solar?
Thaxton and others noted that it is now up to community members to decide how successful the Sarasota Solar Co-op will be.
To learn more about the co-op and how it works, you can attend one of three FL SUN information sessions scheduled for January and February. View the dates and locations and RSVP to attend on FL SUN's Sarasota Solar Co-op web page.
---
MORE NEWS