It's not often that you get to meet a generous, kind, and humble woman immersed in the city of Venice, Florida's cultural heritage and history. Julia Cousins Laning, longtime Gulf Coast Community Foundation legacy donor, is woven throughout the city of Venice in her historic and philanthropic endeavors. Julia's personal history and the city of Venice's history have been intertwined for almost a century. Her strong philanthropic spirit, which she honored through her funds at Gulf Coast, allow organizations to thrive and prosper, and yet her heart remained humble as that of a small town girl growing up in Venice. Julia aspired to give generously to causes and things she loved, an inspiration for other philanthropists. Let us introduce you to the wonderful Julia Cousins Laning.
Finding Venice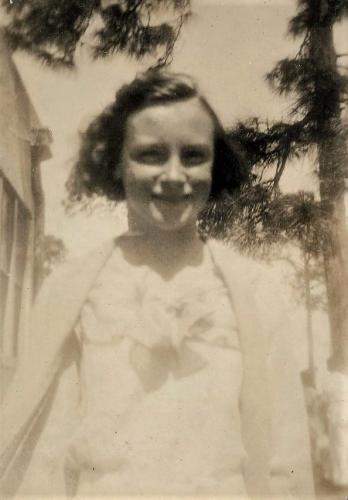 Born Julia Cousins on December 11, 1921 in Norton, Virginia, Julia's family moved to Tampa when she was just four years old. In Julia's words, from the Venice Museum & Archives oral history project, "My father was a building contractor. He heard about Venice and what was going on and decided it's a brand new town, building like crazy, and daddy had every vision of having a permanent job for several years building houses. The town was laid out with a little farm section and we bought a five-acre farm out on Jackson Road. …As a child I loved it here. I ran around barefoot and we were doing very well. We'd been here about two years when everything fell apart. We lost the farm."
Julia's parents helped hold the city together during the dark times of the Great Depression. Julia was a part of one of the founding families of Venice. Her father, Mitt Cousins, served as Mayor of Venice and worked for the Kentucky Military Institute. The family moved to the Triangle Inn where Julia's mother, Carmen, managed the inn as a boarding house. She grew up modestly. They rented a house in the Edgewood district, and her father found a house to buy in downtown Venice. In Julia's words, from the Venice Museum & Archives oral history project, "He told me where it was and I remember walking all the way into town with my girlfriend to see it, and it was love at first sight as far as I was concerned." Julia had a deep passion for preserving Venice's history. The memory of those who helped Venice survive through the Depression Era was always in her heart. Julia graduated from Venice-Nokomis High School and Florida Southern College.
Julia left Venice after college and went to New York City where she worked as a commercial artist for Reader's Digest. Julia moved back to Venice in 1970 and years later met her future husband, Dale Laning, a capable, problem solver who had retired as on office manager for an international law firm in New York. Julia and Dale enjoyed volunteering at the Venice Little Theatre. It was after the death of Julia's husband Dale that she then added philanthropy to her list of volunteer work.
A Philanthropic Heart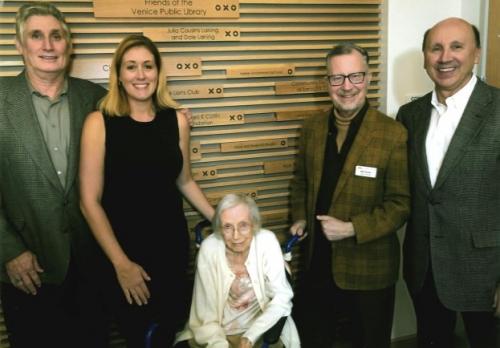 Julia had a strong belief in promoting the culture of the city of Venice and its history, and Gulf Coast Community Foundation helped her do just that. She had a philanthropic heart and gave many important gifts during her lifetime. One of those legacies is the "Julia Cousins Laning and Dale Laning Archives & Research Center." The Triangle Inn is now the Venice Museum & Archives and she volunteered there for a long time. She also supported the Laurel Civic Association, Sarasota Ballet, and Venice Theatre, and wanted to protect, preserve, beautify, and increase awareness of Venice. Julia's legacy funds will benefit causes most important to her and leave some of her funds to protect, preserve, beautify, and increase awareness of Venice, and educate the youth on the community's uniqueness. Julia maintained two Donor Advised Funds at Gulf Coast to support causes in Venice.
Practicality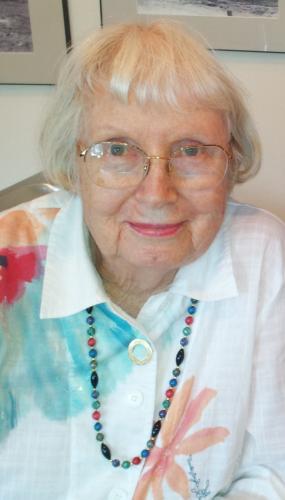 Gulf Coast's Senior Vice President for Philanthropy, Kirstin Fulkerson, has many wonderful memories of her time with Julia who she describes as a kind, bold, sweet, humble, and smart woman. "She always felt like she shouldn't have money because she didn't have money most of her life. She was a gracious woman and she would give credit to everyone else, including her family who were no longer alive," said Fulkerson. "The first time I met Julia, she had just established a very generous fund at Gulf Coast and I took her to lunch to celebrate. After our meal, I realized we both loved desserts. When Julia saw that they were $7.00 each, she said she wouldn't pay for it and neither would she allow me to treat her. It was incredible to know how generous she is to causes in Venice, but that she wouldn't pay for a fancy dessert because her family really struggled during the Great Depression and she grew up with so little," said Fulkerson. "This dessert story is something I treasure with Julia because it shows her generous heart - she was willing to spend so generously on the community she loved and yet was so practical in her life. It was an honor and joy to work with her and her legacy will be remembered in Venice for a very long time."
Julia had a goal to be one hundred years old and she achieved just that. She passed away peacefully on July 16, 2022 at the incredible age of one hundred.
---
MORE NEWS