In October, Kiwanis Club of North Port Foundation received an $8,000 grant from our Hurricane Ian Recovery Initiative for gas and gift cards for extremely needy families in North Port who lost nearly everything in the storm. The Kiwanis Club has been helping families through the Children's Community Clothing Closet for 30 years.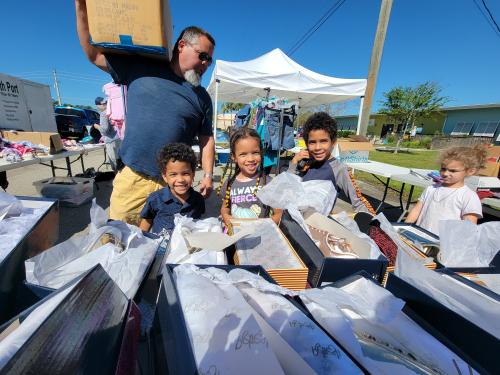 Days after Hurricane Ian ravaged North Port, the Kiwanis Club handed out meals with the World Kitchen. By listening to residents, they learned that gas cards were needed to run generators and travel to work, plus food was needed to replace what was lost. Sadly, some of the residents' homes flooded up to their toilet bowls. Some lost everything. They needed clothing, diapers, cleaning supplies, sanitizer, and hygiene items. We provided the Kiwanis Club with a grant, giving them the opportunity to help fill the needs of elderly mobile home residents, parents, and children who needed school supplies and uniforms.
The Kiwanis Club shared, "Although our Children's Community Clothing Closet was heavily damaged, we are having pop-up events in different neighborhoods and in front of the damaged closet through the new Kiwanis Community Mobile Outreach. Gulf Coast Community Foundation has helped make it happen." Club members have also visited Country Club Ridge which was among one of the hardest hit communities in North Port and gave gift cards to families in dire need. The club additionally provided assistance at Willow Creek where nine elderly residents were in the dark and hadn't eaten in six days.
The Kiwanis Club explained that the need won't go away anytime soon, but with the help of Gulf Coast they will continue their imperative boots-on-the ground efforts. They shared that the gas, food, and home repair gift cards are making a real difference. We are honored to be an instrumental part of the Hurricane Ian recovery in the areas that need it most. Together, healing, hope, and rebuilding will transform lives in our region.
---
MORE NEWS