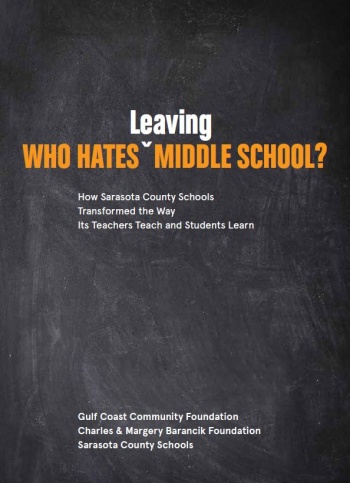 Two innovative education initiatives seeded by philanthropy and embraced by teachers, students, and the wider community have transformed public middle-school education in Sarasota County over the past eight years.
A report marking the culmination of these successive initiatives, which together invested over $18 million into technology-enhanced education in the region, was shared with the Sarasota County School Board on February 20.
Jump-starting Achievement in Math and Science
The first initiative, called STEMsmart, was launched by Gulf Coast Community Foundation in 2009, in partnership with the Sarasota and Charlotte county school districts. With research indicating that the region, state, and nation lagged many developed and emerging economies in math and science achievement, STEMsmart was designed to jump-start education in science, technology, engineering, and math, or the STEM disciplines.
"The superintendents of both school districts agreed that we had to do much better in math and science," recalled Gulf Coast President/CEO Dr. Mark S. Pritchett, who was the foundation's vice president in charge of the initiative at the time. "As a community foundation, we owed it to our region's students to be innovative so they could dream big and achieve their goals."
Gulf Coast originally envisioned STEMsmart as a five-year, $2.5-million partnership focused on eight secondary schools within the two counties. But with early success and growing community interest, the initiative grew in scope and reach. Eventually, thanks to donor contributions, business and community partners, and sustained investment by the school district, STEMsmart grew into an $11.5-million initiative.
The most visible and financially significant transformation came in the form of the TechActive "Classroom of Tomorrow," a completely reimagined middle-school classroom environment outfitted with interactive technology and configured for collaborative, hands-on learning by teams of students. By the end of the five-year initiative—and with a big assist from philanthropists Charles and Margery Barancik, whose matching gift leveraged many more private donations to the effort—every middle-school math and science classroom across the Sarasota County School District was retrofitted with the TechActive format.
"When we launched STEMsmart, we had no idea it would grow into what it became," said Teri A Hansen, president/CEO of the Charles & Margery Barancik Foundation and formerly CEO of Gulf Coast Community Foundation. "Philanthropy provided the start-up capital, but the teachers and students showed us what was possible, and STEMsmart became a movement."
21st Century Schools
As the STEMsmart initiative approached its final year, the Baranciks proposed applying the same technology and teaching methods to the rest of the curriculum. Through their new private foundation, they funded a pilot project to convert every English languages arts and social studies classroom at Sarasota Middle School to the TechActive format. Evaluation of the pilot showed immediate success, and the Charles & Margery Barancik Foundation partnered with Gulf Coast Community Foundation to create a follow-up initiative to STEMsmart, dubbed 21st Century Schools.
Through the new, three-year effort, the foundations and Sarasota County Schools overhauled the remaining language arts and social studies classrooms across the district's middle schools. The $50,000 cost per classroom was split evenly between the district (infrastructure and teacher training) and philanthropy (technology and equipment). By the beginning of the current school year, the remaining 131 middle-school classrooms across the district had been converted.
Transformational Impact
Both STEMsmart and 21st Century Schools were independently evaluated by Robertson Consulting Group over the life of the two initiatives. Annual and interim evaluation reports document a range of positive impacts, both quantitative and qualitative. A selection of highlights from this ongoing evaluation is included in a new capstone report, titled Who Hates Leaving Middle School? Among the findings:
•    Students are more interested in STEM, with 20% more interest in STEM careers and 18% more interest in technology.
•    Students see the value in collaboration and hands-on learning, as 70% prefer the team approach used in the new classrooms and 60% agree the classes are more "real life."
•    Teachers have transformed their skill sets, as 83% reported changing their instructional techniques.
Evaluations also indicated that teachers are able to cover more material and go into it more deeply because of the new classroom technology and accompanying instructional techniques. For other school districts considering their own large-scale classroom technology initiatives, the report also compiles a list of "lessons learned" by the Sarasota County partners. 
At the February 20 School Board meeting, Superintendent Dr. Todd Bowden presented his inaugural "Superintendent's Coin" to the two foundations' CEOs in recognition of their leadership in education.
Read or download:
Who Hates Leaving Middle School? How Sarasota County Schools Transformed the Way Its Teachers Teach and Students Learn
 
---
MORE NEWS