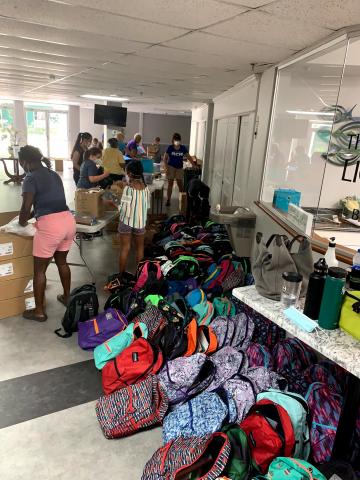 As another school year wraps up, many students look forward to the care-free days of summer vacation. But for a staggering number of local kids, it won't be long before they start to worry about their preparedness for the next school year. Hope 4 Communities helps relieve that burden for thousands of homeless and needy children in Sarasota and Manatee counties through its signature initiative, Day4Hope.
The Bradenton-based nonprofit offers a series of one-day summer events that provide school supplies, clothes, groceries, and medical and dental health services for homeless children and others in need, setting up the students and their families for success. "It's hard to believe there are so many homeless children in such a rich community," says Pam Hawn, executive director of Hope 4 Communities. "We want to pour love and support into those children, and try to help level the playing field with their peers by ensuring all of their basic needs are met."
Hawn says the pandemic has created a larger need than ever for these services. That's why Gulf Coast Community Foundation and Charles & Margery Barancik Foundation recently awarded Hope 4 Communities a $7,500 COVID-19 Response grant. It will help the agency serve an additional 75 children at one of its upcoming events.
 
A better first impression
Hope 4 Communities works with churches, volunteers, partner organizations, and healthcare providers to create an unforgettable day for participating youth. Days 4 Hope occurs at various local church campuses on weekends in July and August, just before the new school year—leaving students feeling prepared and confident.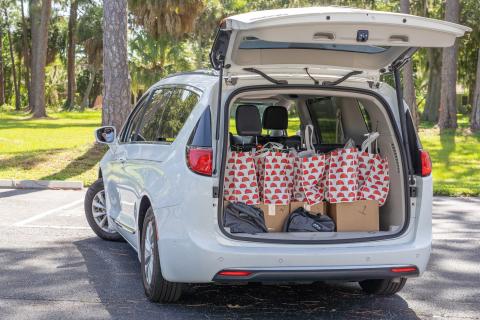 "The thing these kids struggle the most with is their self-esteem," says Hawn. "They come to school with their hands in their pockets; they might be embarrassed or sad, showing up with torn clothes; they might be dirty. If we can help them with their first impression, they'll feel good to be in school. That results in better attendance, better grades, and better graduation rates."
At a Day 4 Hope, each child receives a new backpack filled with school supplies, personal care items, gift cards for clothes or uniforms, and a pair of new shoes. But that's not all. They also get a medical exam, a dental exam and teeth cleaning, an eye exam, and a haircut. Hope 4 Communities and its volunteers even take a school and family portrait, as well as provide meals throughout the day.
"Next school year will bring a host of uncertainties for our students, especially those whose families are struggling financially," says Jennifer Johnston, senior community investment officer at Gulf Coast. "We're delighted to partner with Hope4Communities to help prevent these children from facing any additional obstacles."
If you'd like to learn more about Hope 4 Communities and its Day4Hope initiative, go here. 
---
MORE NEWS