The executive director of a nonprofit is the bedrock to an entire organization. Executive directors are constantly working with their Boards, team, and community to make sure every day operations and large scale goals come to fruition. The job can seem endless and daunting, but it is those leaders who rise up to take the challenge that help glue our precious nonprofit community together and make change happen all over the region.
Gulf Coast Community Foundation's Invest in Incredible initiative houses strong, influential programs such as Gulf Coast Leadership Institute, Gulf Coast Board Institute, and the latest, Gulf Coast Executive Institute (GCEI). GCEI has announced the celebration of its 2022 inaugural class, a consortium exclusively for executive directors or chief executive officers. The news comes with an important announcement for those looking to apply for the next GCEI consortium.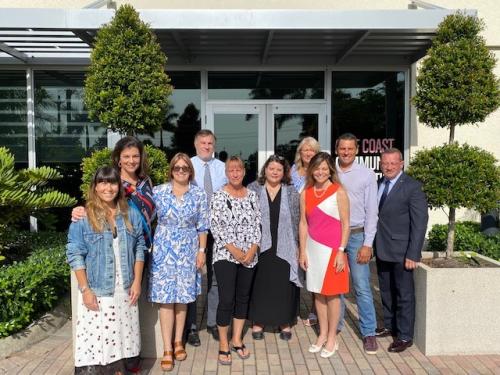 GCEI was created to build a group of executives to come together to collaborate, share issues they are facing, and bounce past experiences off each other with peer support now and in the future. The consortium draws collective knowledge and experience in collaborating for the greater impact in our region. GCEI addresses contemporary issues facing nonprofits and executives, and provides creative problem solving specific to the executives and peer relationships. "We are thrilled to celebrate our inaugural Gulf Coast Executive Institute class. The class gathered an incredible group of leaders in our region who transformed together to share, empower, help, and learn from one another," said Veronica Thames, Chief Operating Officer of Gulf Coast Community Foundation. "This program is essential for our resilient nonprofit leaders. I encourage our nonprofit executives to apply for the next opening as a demonstration of their commitment to their own professional development and for the enrichment of their team's experience under their leadership," said Thames.
Applications for the 2023 GCEI will open in September. This program is exclusively for executive directors or chief executive officers looking for an incredible growth opportunity. Stay tuned to https://www.gulfcoastcf.org/ for further information.
---
MORE NEWS