Gulf Coast Community Foundation presents:
Better Together 2019
A Luncheon and Conversation with Freeman A. Hrabowski III,
President, University of Maryland, Baltimore County
Friday, March 8, 2019
The Ritz-Carlton, Sarasota
Reservations are now closed. For additional information, please contact us.
Gulf Coast Community Foundation will welcome renowned educator, innovator, and activist Freeman A. Hrabowski III as the featured speaker for our 2019 Better Together luncheon.
Hailed nationally as a premier STEM educator and visionary university leader, Dr. Hrabowski will share a message of opportunity through education and hope through philanthropy with insights from his own life and work. (Read Gulf Coast CEO Mark Pritchett's guest column on Dr. Hrabowksi.)
Hrabowski has earned numerous honors for his leadership and scholarship. TIME named him both one of the 100 Most Influential People in the World and one of America's 10 Best College Presidents, while U.S. News & World Report called him one of America's Best Leaders. He has received the Heinz Award for his contributions to improving the human condition, the prestigious McGraw Prize in Education, and election into the inaugural U.S. News STEM Leadership Hall of Fame, among many other awards.
---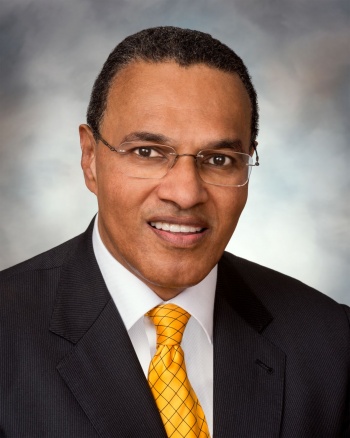 Dr. Freeman A. Hrabowski III has served as president of the University of Maryland, Baltimore County, since 1992. Under his leadership, UMBC has become a powerhouse in higher education with a national reputation as a preeminent research and teaching institution. Dr. Hrabowski's research and publications focus on science and math education, with special emphasis on minority participation and performance. He is widely recognized for his advocacy for diversity in education and empowering students of all backgrounds to excel in the STEM fields.
Watch Freeman Hrabowski's TED Talk on the 4 Pillars of College Success in Science. 
Born in Birmingham, Alabama, in 1950, Hrabowski was a child-leader in the Civil Rights Movement who spent five days in jail at age 12 after marching in the Children's Crusade organized by Rev. Martin Luther King Jr. He was prominently featured in Spike Lee's Academy Award-nominated documentary 4 Little Girls, about the racially motivated 1963 bombing of Birmingham's 16th Street Baptist Church. Hrabowski's own 2015 book, Holding Fast to Dreams: Empowering Youth from the Civil Rights Crusade to STEM Achievement, describes the events and experiences that shaped his development as an educator and leader.
Innovation, entrepreneurship, and student success
Freeman Hrabowski is a consultant on science and math education to national agencies, universities, and school systems. He was selected by President Barack Obama to chair the President's Advisory Commission on Educational Excellence for African Americans, and he also chaired the National Academies' committee that produced the 2011 report Expanding Underrepresented Minority Participation: America's Science and Technology Talent at the Crossroads.
With philanthropist Robert Meyerhoff, Hrabowski co-founded the Meyerhoff Scholars Program at UMBC. This nationally recognized program is open to all high-achieving students committed to pursuing advanced degrees and research careers in science and engineering and advancing underrepresented minorities in these fields. In 2011, Hrabowski received the Carnegie Corporation of New York's Academic Leadership Award, which included a $500,000 grant that Hrabowski directed to promote and support a culture of innovation, entrepreneurship, and student success at UMBC.
Watch this 60 Minutes segment on Hrabowski to learn more about the Meyerhoff Scholars Program.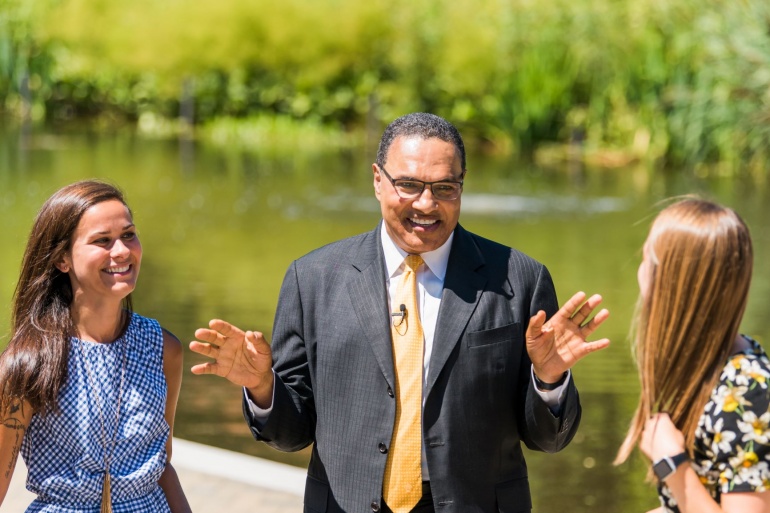 A self-described "math nerd," Hrabowski graduated from Hampton Institute with highest honors in mathematics. He received his M.A. (mathematics) and Ph.D. (higher education administration/statistics) from the University of Illinois at Urbana-Champaign.
Our Better Together series
Gulf Coast Community Foundation's annual Better Together luncheon invites thought leaders and innovators to our region to discuss important civic issues and pitch big ideas transformation. Since 2004, when Harvard sociologist Robert Putnam introduced us to the merits of social capital in building strong communities, Gulf Coast has presented this event to inspire bold thinking and seed proactive solutions to emerging challenges and opportunities facing our region.
Building on recent discussions of leadership and innovation by historian David McCullough and civility and engaged citizenship by law professor Noah Feldman, we are eager to bring Freeman Hrabowski's thoughtful perspectives on hard work, high expectations, and equal opportunity to our Gulf Coast communities. As Gulf Coast prepares to celebrate 25 years of transforming our region, Hrabowski's perspectives on innovation and excellence can help us imagine, together, the possibilities for the next 25 years and then perform the calculus to achieve them.
---
MORE NEWS