"It's not a graduation; it's a continuation!"
That's how Hannah T. characterized the end of an 11-month financial education and coaching program that helped her build the knowledge, decision-making skills, and resources to forge a better future for herself and her children.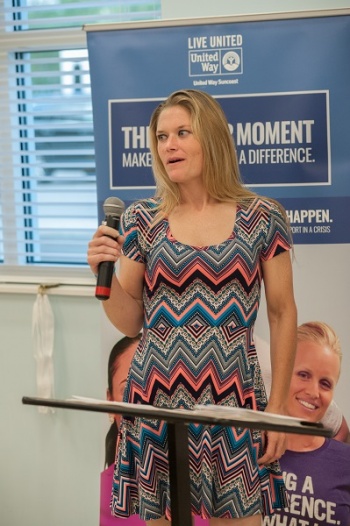 Hannah and 12 other parents whose families had once been homeless made up the first group to progress all the way through our  Financial Sustainability Initiative (FSI), a collaboration we launched last year with United Way Suncoast. The students were celebrating their achievements to date — and the new goals within their reach — at a May 17 graduation event hosted by The Salvation Army – Sarasota Area Command.
The FSI graduates were joined by their volunteer financial coaches, United Way and Gulf Coast staff, social workers from The Salvation Army — essentially the network of supporters who helped make their personal transformations possible over the past year. The celebration came complete with ice cream cake, honorary medals and certificates, and — most importantly — checks from Gulf Coast to match funds that the students had saved in special accounts set up by IBERIABANK.
(View more photos from the event on our Facebook page.)
A New Approach to Financial Literacy
This inaugural cohort of students entered FSI a year ago, referred by The Salvation Army, a key partner in helping Gulf Coast and United Way launch the new initiative. Half of them had recently come through the Family Haven Alliance, the partnership of social-service agencies that handles triage and stabilization of homeless families in crisis in Sarasota County. Although safely housed by then, the families still needed help securing the financial footing to ensure they didn't relapse into homelessness.
In "phase 1" of the program, the students attended near-weekly financial-literacy workshops. They also met one-on-one with their volunteer coach each week, to work on budgeting and basic finances, setting goals, and generally whatever they needed help with.
To make participation easier for these time- and cash-strapped parents, there was an array of incentives and support. The Salvation Army provided dinner for the families at its Community Center before each workshop. Children First professionals were on-site for child and infant care. Junior Achievement even delivered financial lessons tailored to youngsters while their parents participated in the grown-up workshops.
The social capital built within the Community Center and between the students and their coaches was vital to the participants' sustainability, noted Major Ethan Frizzell of The Salvation Army.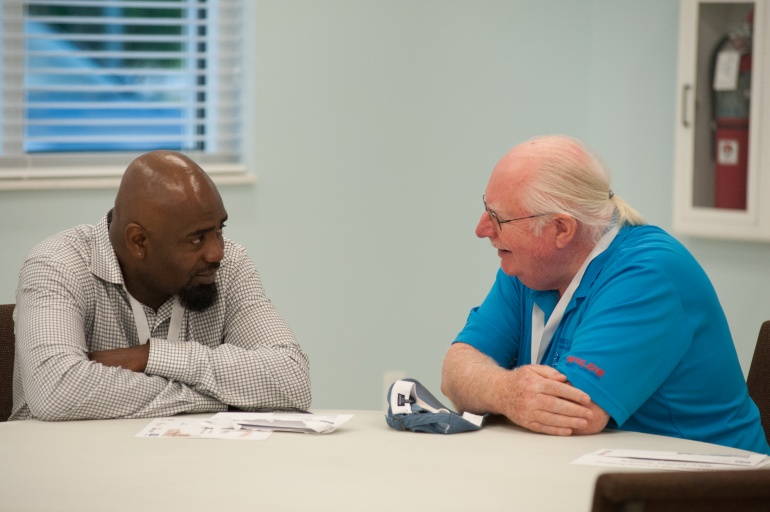 "You're Not the Only One"
After marking the milestone of completing those first three intensive months, the students segued into "phase 2" of the FSI curriculum. They continued to meet regularly with their coaches over the next eight months, working toward employment, educational, and financial goals. They also were expected to attend at least eight in a series of optional workshops. By meeting their coaches at least 12 times and attending the workshops, families could qualify for matching funds (up to $500!) from Gulf Coast for money they'd socked away in their matched savings accounts.
Another strategy of the initiative is helping students build credit and find manageable alternatives to high-interest payday and "buy-here, pay-here" loans, which can trap struggling families. One tool utilized by 10 of the original students was a "credit-builder loan" provided through the Capital Good Fund, a nonprofit financial-services organization that helps people fix their finances. Students also can access emergency loans through the program.
At the May graduation, each student spent a few minutes sharing lessons learned, challenges overcome, and advice they'd give to families who might follow in their footsteps. The mutual support of their fellow participants as well as the coaches and nonprofit staff who guided them was a recurring theme.
"I feel like a family with everyone else," said Maribel G. 
"There was a lot of support in this room," said Shirlnika S. "Sometimes you don't know you're not the only one until you come into a room."
"I've met every single one of my goals except one—and I'm working on that now," said Hannah. "And that's to buy a home."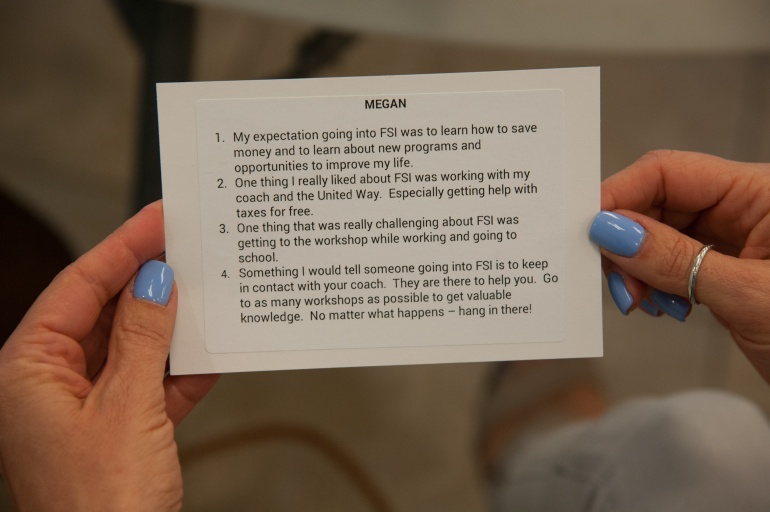 An Investment in People
Mike H., a volunteer coach who worked with two FSI students over the past year, said he learned plenty too. Mike admitted having mistaken preconceptions before he started about the work ethic of people who don't have much money. Pointing to his students, he said, "These two people know how to work, they work really hard, and the tragedy is they don't make a lot of money."
"The best financial investment that Gulf Coast Community Foundation has made this year is sitting right here." — Jon Thaxton
The students' commitment was a sentiment mirrored in closing remarks by Jon Thaxton, Gulf Coast's senior vice president for community investment. Jon made sure that the students knew that what they had accomplished was special and the example they had shown their own children would pay future dividends.
"Not everyone can do this," he said. "The best financial investment that Gulf Coast Community Foundation has made this year is sitting right here."
The fourth class of participants will enter the Financial Sustainability Initiative on June 7. Cohorts 2 and 3, meanwhile, are now in progress and will complete the program later this year. To learn more about the Financial Sustainability Initiative, go here.
 
---
MORE NEWS