Kentucky Military Institute Memorial Endowment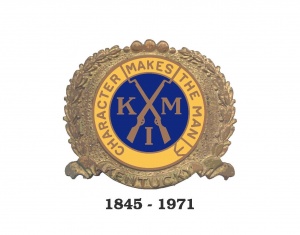 The Kentucky Military Institute was established near Frankfort, Kentucky in 1845 by Col. Robert P. T. Allen, a West Point graduate. It was never the intention of Col. Allen or his successors to train solders.  However, Col. Allen believed that military discipline would teach young men the value of order and discipline in their daily lives thus he patterned KMI after West Point.  Throughout its 126 years, the Kentucky Military Institute educated more than eleven thousand young men and boys and at its closing in 1971 KMI was the oldest privately owned military preparatory school in the United States.
The remaining alumnus of the Kentucky Military Institute have established the Kentucky Military Institute Legacy Endowment to preserve the history of the Kentucky Military Institute, provide ongoing support and promotion of the KMI legacy, provide for the collection and display of KMI memorabilia, and provide for the maintenance and expansion of KMI exhibits and archives. The Kentucky Military Institute Memorial Endowment will live into perpetuity.  Many of our alumni will survive for 10-25 years or more.  Annual giving to our endowment during that time will assure that the Legacy of the Kentucky Military Institute will keep our traditions and memories alive for future generations. We thank you for supporting the KMI Legacy Endowment.
If you would like to make a tax deductable donation in support of the Kentucky Military Institute Memorial Endowment, Gulf Coast Community Foundation accepts a variety of ways to make a contribution.
Personal check

Please make your check payable to Gulf Coast Community Foundation and write "KMI Memorial Endowment" on your check's memo line.
Mail checks to:
Gulf Coast Community Foundation
601 Tamiami Trail South
Venice, Florida 34285
Credit card

To make a gift via credit card, please complete the form below and click "Submit."  You will then be directed to a secondary page to enter your credit card information.  You will receive a "transaction receipt" via email soon after your donation is received.
Charitable IRA rollover

This provision allows an individual that is 70 ½ or older to make an annual gift of up to $100,000 by transferring from their IRA assets directly to Gulf Coast.  The distribution, which can count towards an individual's RMD, may be considered tax-free.  There are IRS restrictions on this provision so please be sure to consult with your tax and financial advisors.
Other gift options

Gulf Coast has the ability to accept a broad range of assets to help you maximize tax-advantaged charitable giving.  Those assets include:  business interests, real estate, art, antique collections, closely held stock, gifts of stock, and gold.
Planned gift

A planned gift to benefit the Kentucky Military Institute Memorial Endowment will ensure that the KMI Legacy lives on forever.  Planned gifts may be made through will or trust, or naming the endowment as beneficiary of investment/bank account, retirement account, or life insurance policy.
The Gulf Coast Community Foundation will be pleased to help you explore all the options.  Contact the Gulf Coast Team at 941-486-4606 for more information.
By clicking Submit you have authorized Gulf Coast Community Foundation to process your gift.
This completes your transaction and cannot be undone. For your protection, all transactions are processed through our secure server.
Attention:
In accordance with IRS regulations, you have received no goods or services in exchange for this gift and Gulf Coast Community Foundation has exclusive legal control over the funds. Gulf Coast is registered with the state of Florida (CH6520).
A COPY OF THE OFFICIAL REGISTRATION AND FINANCIAL INFORMATION MAY BE OBTAINED FROM THE DIVISION OF CONSUMER SERVICES AT www.800helpfla.com OR BY CALLING TOLL-FREE (800-435-7352) WITHIN THE STATE. REGISTRATION DOES NOT IMPLY ENDORSEMENT, APPROVAL, OR RECOMMENDATION BY THE STATE.
All gifts, once accepted by the Board of Directors, represent an irrevocable contribution to Gulf Coast Community Foundation and are not refundable.