The Gulf Coast Board Institute provides high-level board governance training to new and veteran nonprofit board members in the Gulf Coast region. Combining interactive educational sessions with follow-up peer discussions, the Board Institute helps ensure that our nonprofit partners have access to a deep pool of skilled and knowledgeable board members.
---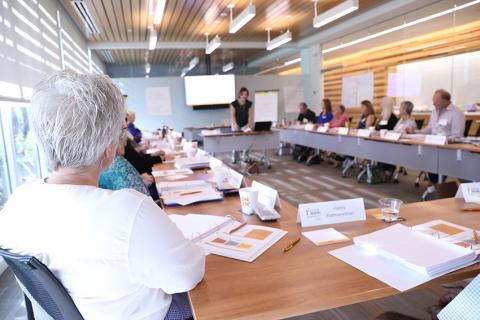 Applications are now closed for the Winter 2023 session taking place in February and March. The application for the Fall 2023 session of Gulf Coast Board Institute will open July 24. The institute will take place on Fridays, October 6, 13, 20, and 27 in our Venice office. Please direct any questions you have to I3@gulfcoastcf.org.
About Gulf Coast Board Institute
At Gulf Coast, we envision a region known for endowed philanthropy, a vital nonprofit community, and the ability to address emerging issues. The Gulf Coast Board Institute is our latest investment in strengthening our nonprofit partners through our Invest in Incredible initiative.
The Board Institute is offered several times each year to provide high-level governance training to volunteer board members. Participants for each session are selected through a competitive process with the intent of creating a group of individuals with a variety of experiences.
Regardless of prior board experience, all participants should possess a personal commitment to use what they learn through the Gulf Coast Board Institute to strengthen the governance capacity of a nonprofit organization in the Gulf Coast region.  
Each session of the Gulf Coast Board Institute welcomes up to 24 individuals, who participate in four training experiences over a four-week period. Participants receive a comprehensive overview of governance issues as well as in-depth exploration of key governance topics. All training and resources are provided at no cost to participants selected for the Board Institute.