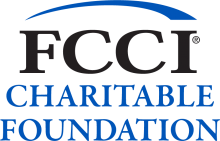 FCCI has been giving back to the community since the company's founding in 1959. In 2019, it established the FCCI Charitable Foundation which provides the opportunity to support a variety of organizations in need. FCCI is honored to partner with local and national charitable organizations in the communities it serves.
By clicking Submit you have authorized Gulf Coast Community Foundation to process your gift. You will be directed to a secure webpage to enter your credit card information.
You will not be able to modify your transaction details after you leave this page. For your protection, all transactions are processed through our secure server.
Attention:
In accordance with IRS regulations, you have received no goods or services in exchange for this gift and Gulf Coast Community Foundation has exclusive legal control over the funds. Gulf Coast is registered with the state of Florida (CH6520).
A COPY OF THE OFFICIAL REGISTRATION AND FINANCIAL INFORMATION MAY BE OBTAINED FROM THE DIVISION OF CONSUMER SERVICES AT www.800helpfla.com OR BY CALLING TOLL-FREE (800-435-7352) WITHIN THE STATE. REGISTRATION DOES NOT IMPLY ENDORSEMENT, APPROVAL, OR RECOMMENDATION BY THE STATE.
All gifts, once accepted by the Board of Directors, represent an irrevocable contribution to Gulf Coast Community Foundation and are not refundable.