The problem of chronic adult homelessness has continued to weaken the social and economic health of our region. However, new cooperation among government, law-enforcement, nonprofits, and philanthropy is finally transforming the way our community cares for the chronically homeless.
---
Despite years of well-intended efforts to reduce it, chronic adult homelessness has remained one of the most observable and intractable social challenges facing our community.
The chronically homeless struggle to find footing or a job, and they are often impacted by a disability or mental health need. They tend to fall through the cracks in social support systems and typically need primary care before they can support themselves.
This problem has deep and costly repercussions. Homelessness not only affects the individual experiencing the crisis, but also increases community costs and negatively impacts the quality of life for residents, businesses, and visitors. One study puts the annual cost to the community of chronic homelessness at more than $31,000 per homeless person.
But success in transforming the system of care for homeless children and families in Sarasota has provided a blueprint for how our community can work together to reduce adult street homelessness. 
Effectively Responding to Our Homeless Crisis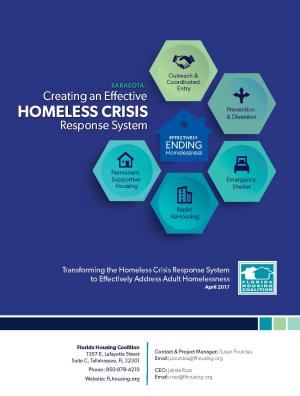 The Sarasota community reached a watershed in its approach to adult homelessness in April 2017. That's when both the City of Sarasota and Sarasota County unanimously approved a plan from the Florida Housing Coalition to create a comprehensive response system to the homeless crisis.
Gulf Coast Community Foundation is working closely with the City and the County, as well as the regional nonprofit Suncoast Partnership to End Homelessness, to implement recommendations in the report. Gulf Coast has played a critical leadership and catalytic funding role in these improvements to the system so far:
Transforming the leadership and capacity of the Suncoast Partnership, the regional organization responsible for coordinating services and housing for the homeless supported by federal and state grants.
Facilitating a coordinated entry system so that homeless individuals have access to a system of services from points throughout the county and those with the highest need are prioritized.
Adding emergency shelter beds to provide law-enforcement with the ability to divert homeless individuals from jail and into housing with case-managed services.
Launching a $1-million rapid rehousing program, funded by generous local philanthropists, that provides deposits, rent subsidies, and access to appropriate housing to fill a critical gap in the system of care for the homeless.
Creating new permanent supportive housing to ensure safe and affordable places to live for homeless individuals with seriously disabling conditions.
Prioritizing the Highest Needs
As part of the plan being put in place, homeless adults with the very highest need are prioritized for housing and supportive services. For example, in one week shortly after the launch of the new rapid rehousing program, three individuals with a combined 31 years of homelessness were moved into housing. 
Such individuals are high users of community and hospital services. According to a study of over 100 chronically homeless individuals in Central Florida, long-term homelessness costs the community an estimated $31,065 per person per year, including shelters, emergency room visits, and criminal justice involvement. Meanwhile, it costs less than a third of that to provide housing and supportive services to get a chronically homeless person off the street and help prevent them from falling back into homelessness.
Figures from the most recent "point in time" survey of homeless individuals in our community showed that adult street homelessness was down about 18 percent in a year. While this is just one data point in evaluating the full picture of homelessness, it shows progress thanks to a streamlined, collaborative system with strong leadership, a focus on outcomes, and data-driven decision-making.
"The numbers may not fall as fast as we hope, but the numbers that fall will be very meaningful ones for the community," said Ed DeMarco, CEO of the Suncoast Partnership to End Homelessness.